I am new to Yjs and I am mesmerized by its amazing concepts and performance.
Now I am trying to make my cloned Notion projects but I am having hard time even to understand how it works.
Here it is my drawing and I want to make it sure I understood it correctly.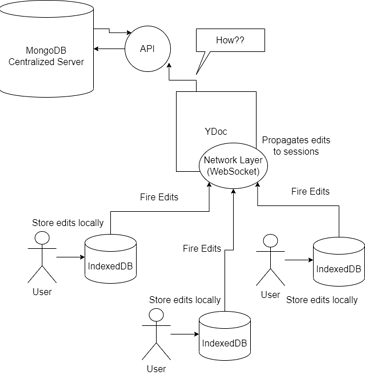 Clients open the web, web internally connects client to the network layer (in my case, it is WebSocket) and it loads data from the persistence layer (IndexedDB here).
Now clients are ready to fire events, and when he edits, edits are fired and propagates via network layer.
If above is correct what I am wondering is where and when and how do I store the data in centralized server. I think I misunderstood something on it, but I don't even recognize what I don't know. Enlighten me please.