Hello!
I'm trying to set up a little local sandbox to play around with this awesome library. I'm super interested in the websocket capabilities and this snippet that l'd like to try out. I've downloaded it local and have it running, but it's relying on an Yjs's demo websocket so I'd like to set up my own local websocket. I've essentially coped the file format from the ysocket repo and have the local host server running because I'm able to access localhost:1234 on the browser.
However when I try to connect to the socket from the front-end, I get this error: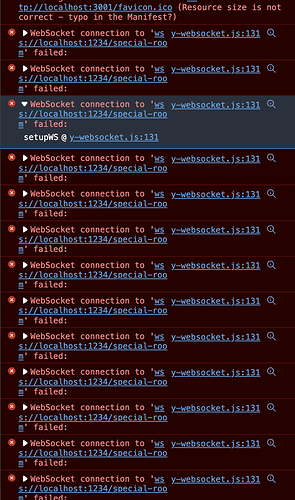 I can't really pinpoint this error message. I thought it was a proxy or SSL error initially when reading online but the error seems to suggest it's related to ysocket so I'm not too sure where to start. I'm super new to websockets so any help wold be appreciated!